Can I display my own SNP data on the Ensembl browser?
Yes, you can view your SNP data as well as indels and CNVs.
You can do this through the 'Add Your Data/Manage Your Data' button on the 'Region in detail' page in the Location tab.
Another option is to upload variants to Ensembl via the Variant Effect Predictor (VEP).
VCF files are variation files fully supported for custom data attachment in Ensembl if they are available at a URL, e.g. http://, https:// and ftp://.
You will also need an index file with the extension .vcf.gz.tbi in the same directory as your VCF file and with the same name.
To attach a VCF file to any 'Region in detail' view, you can follow these steps:
1) Click on 'Add Your Data/Manage Your Data'
2) Click 'Add Your Data' at the left (in case you are not already there):
3) You may want to give a name for your custom data track
4) Choose 'VCF'
5) Provide the file URL (Please note you need both .vcf.gz and .vcf.gz.tbi (index) files in the same directory and under the same name)
6) Click 'Attach'
7) Close the configuration panel
The variants should be displayed along the genome as shown below: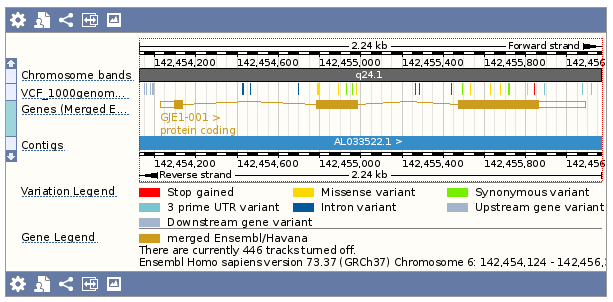 You will be able to visualise the different consequence terms your variants cause on the set of Ensembl genes and transcripts. Zoom in to see the individual variants and their consequence terms.
For other file formats you can use, see the Custom Data FAQ.
More information about uploading and attaching your own data can be found in our video.
---
If you have any other questions about Ensembl, please do not hesitate to contact our HelpDesk. You may also like to subscribe to the developers' mailing list.